Greeting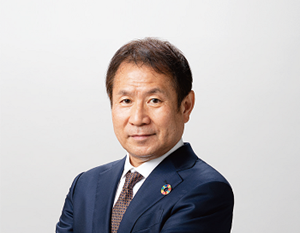 To Our Shareholders and Investors Message from the CEO
Haruhiko Doi
Chairman and CEO
OUTSOURCING Inc.
Allow me first to extend my heartfelt gratitude to our shareholders and investors for the continued support and understanding.
First of all, we sincerely apologize for the great deal of concern and inconvenience that we have caused to our shareholders, investors, business partners, and all other stakeholders, due to the inappropriate accounting case discovered within the OUTSOURCING Group companies (hereinafter the "Case").
■ Investigation Report and Measures to Prevent Recurrence
Regarding this Case, we established an external investigation committee (hereinafter "this Committee"), which is composed only of neutral and impartial outside experts, and asked this Committee to conduct a thorough and objective investigation.
The Investigation Report made by this Committee (hereinafter the "Investigation Report") brought up issues about corporate governance, internal control, internal reporting system, accounting and compliance, and recommended their improvements.
We took the cause of such a practice and the proposal of measures to prevent recurrence pointed out in the Investigation Report by this Committee seriously. Thus, the Board of Directors made resolutions to implement concrete measures to prevent recurrence and to make punitive actions against those concerned with the Case. In the future, we will strive to restore everyone's trust by promptly implementing measures to prevent recurrence.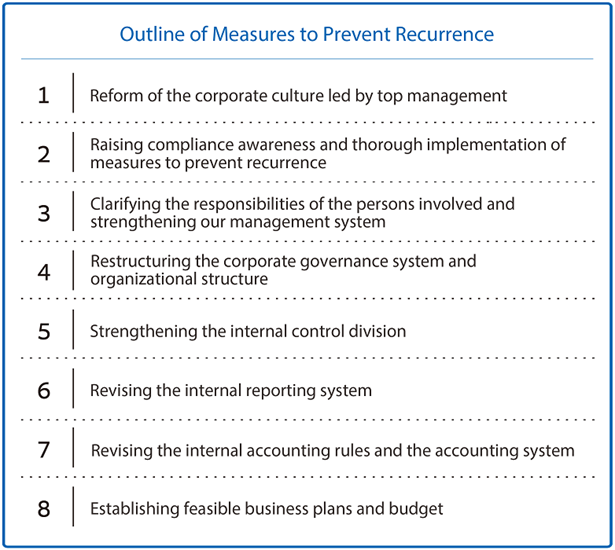 ■ Implementation of Measures to Prevent Recurrence
Regarding this Case, as top management, I myself was shocked to find out that, since our internal reporting system was not functioning properly in the OS Group, the whistle-blowing report was made directly to our auditing firm, but at the same time, I take this fact very seriously.
In the future, we will ensure that our internal reporting system will work effectively in all the divisions within the Group. Under the new system, those who discover governance issues such as compliance violations will be able to report them without hesitation, those whistle-blowers will be able to select the report destination according to the content of the report, the mechanism will be created to protect whistle-blowers thoroughly, and all the employees will be well informed that appropriate measures should be taken according to the report content.
In addition, the Investigation Report pointed out that "the cause of the series of inappropriate accounting was the existence of aggressive numerical targets set forth under the management policy which strongly demanded continuous growth." We also take this point very seriously.
I am strongly convinced the definition of 'business' is that if we make the best efforts, it will lead to the growth of employees and the company as a result. I believe that this belief can be shared not only in our business activities, but also in all fields.
The OS Group's numerical targets are based on what we can achieve when we do our utmost, but we think that the process of maximizing our efforts itself is the most important, and we are not necessarily sticking to achieving our numerical targets. Based on this philosophy, numerical targets were achieved in most fiscal years, but we do not think that we have set unreasonably high numerical targets due to strongly demanding growth.
However, when looking at individual companies, divisions and sales bases, some have strongly cleared the business target, but some have failed to exceed it. Going forward, we will seek and build operational methods that will not put excessive pressure on those unachieved targets.
We take this Case very seriously as it has occurred across multiple companies within the Group. As top management, I myself will take the initiative with a responsibility to work out the measures to prevent recurrence and work on reforms aimed at fostering a better corporate culture.
On the other hand, we believe that strengthening the management system as a result of the implementation of recurrence prevention measures should not increase the burden and restrictions on employees. We would rather like to build a mechanism by which employees will naturally enhance their knowledge of compliance management. Furthermore, we would like to improve our corporate features in which each and every employee can practice compliance management, by leveraging the knowledge and working in a relaxed atmosphere, so that both employees and companies can continue growing.
■ Business Environment of the OS Group
Although expectations for COVID-19 to recede have risen thanks to widespread vaccination, the market environment remains uncertain, with concerns over the expansion of infections driven by a COVID-19 variant with higher transmissibility.
In the domestic market, although there are some signs of recovery from the sluggish business sentiment, recovery trends especially in the 2H varied considerably among major client manufacturers due to the downward pressure, e.g., from the prolonged shortage of semiconductors. Such background has led to the occurrence of shift schedule adjustments and production adjustments.
In overseas markets, there were some regions in which we were unable to conduct business activities as we wished, as we have faced the re-spread of COVID-19 infection which was more rapid than expected because of the virus variant.
■ FY12/21 Review
Against a backdrop of the shortage of electronic components including semiconductors, supply chain disruptions and immigration restrictions associated with the re-expansion of the COVID-19 variant infection, the Group's businesses such as the Manufacturing Outsourcing Business and those requiring cross-border workforce in Japan and the ASEAN countries have been deeply affected by the continued immigration restriction due to COVID-19. It also had a significant impact on the receipt and collection of debts in the debt collection business in the U.K.
In the Medium-Term Management Plan "VISION2024: Change the GAME," we set "a further expansion of businesses which helps smooth operating performance" and "the establishment of a global HR mobilization network" as the priority measures. We have steadily promoted such measures, and such efforts resulted in favorable performance in our domestic business for U.S. military facilities, BPO business for the government in the U.K., facility-related business in South America, and dispatching business for e-commerce logistics in the Netherlands. In addition, the Engineering Outsourcing Business, driven by the strong demand for engineers, continued to have performed well globally.
In conclusion, FY12/21 results came in below the initial forecasts. Consolidated revenue increased by 55.9% YoY to ¥569,325 million, consolidated operating profit rose by 82.1% YoY to ¥24,186 million, and the operating profit margin improved by 0.6 percentage point YoY to 4.2%.
Owing to the occurrence of the "Case", we have made revisions to our consolidated financial statements for FY12/19 and FY12/20. Furthermore, as we have reviewed items that were not disclosed from a viewpoint of importance, we have recorded \(160) million for FY12/19 and ¥(440) million for FY12/20 as their impact on profit before tax. As a result of these amendments to past fiscal years, we found that the impact on profit before tax for FY12/21 totaled +¥340 million.
■ Forecasts for FY12/22 and Onwards
During FY12/21, the OS Group continued to invest in human resources, whether it be in our manufacturing or engineering businesses. Looking ahead to FY12/22 onward, the production adjustment in the domestic market centered on the auto industry, for instance, will likely lead to a pick-up in the demand for production in April 2022 and thereafter. Our investments in human resources based on such an outlook are expected to drive our domestic business growth in the future. Also, in our overseas business, we have been able to obtain a large number of contracts thanks to new demands rising under the COVID-19 environment. When the pandemic recedes, our business in overseas market is expected to recover steadily.
Regarding the dividend for FY12/21, we plan to pay ¥31 per share, even though earnings per share for the year was lower than our initial forecast due to the impact of the global spread of COVID-19 as well as the booking of one-off financial expense, attributable to the business performance of an overseas subsidiary which was much higher than our forecast. From December 2022 onward, we expect that the dividend payout ratio will return to a trend of around 30% which we have long achieved.
■ To Our Shareholders and Investors
As OS Group's top management, I am keenly aware of my responsibilities for the occurrence of this Case, and I deeply apologize for the concern and inconvenience caused among all of our shareholders, investors, and all other stakeholders.
Our company was originated as a provider of outsourcing services to manufacturers in Japan. We realized that our awareness of compliance had been inadequate when we started our business. Thus, upholding a theme of compliance management, we accomplished the public listing of the company, and we have come to the present.
However, along with the rapid growth of the Group over the past few years, our efforts to permeate awareness of compliance throughout the Group have become increasingly inadequate. We deeply regret this point and reaffirm the Group's issues we need to tackle with.
Let alone, we will strengthen our governance system including compliance, and I myself will increase communications with employees at worksites and collaborate with them to foster a corporate culture with higher awareness of compliance. Doing so, we will put in our utmost efforts to restore the trust of all of our stakeholders and sincerely hope that all our shareholders and investors will continue to support the OS Group.