Greeting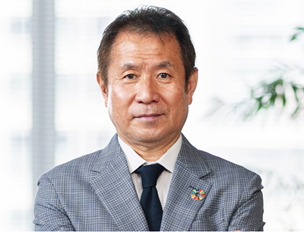 To Our Shareholders and Investors Message from the CEO
Haruhiko Doi
Chairman and CEO
OUTSOURCING Inc.
Allow me first to extend my heartfelt gratitude to our shareholders and investors for the continued support and understanding.
Let me now turn to a report on our financial results for the cumulative 2nd quarter of the 25th fiscal year (from January 1, 2021 to June 30, 2021, hereinafter "1H") and a discussion on the operating environment of the OUTSOURCING Group and our current efforts.
■ Market Environment Surrounding Domestic Outsourcing Business
Although the prevalence of COVID-19 is expected to converge due to the spread of vaccines, the market environment remains uncertain, with concerns over the expansion of infections due to the stronger variant strains.
In the Japanese market, although there are signs of recovery from the sluggish business sentiment brought about by the COVID-19 pandemic, the recovery trend among major client manufacturers varied considerably. This is due to downward pressure from the reoccurrence and extension of declaration of a state of emergency, the Fukushima Earthquake that occurred in February 2021, and the prolonged shortage of semiconductors. Nevertheless, the need for engineers remains brisk in the IT, construction, and service industries. In particular, the demand for systematization and digital transformation (DX) to reduce contacts and support remote work in line with the COVID-19 pandemic has been conspicuously rising. In addition, industry reorganization, such as the sale of companies and businesses, is advancing in both manufacturing and IT-related fields.
■ OS Group Initiatives in the Japanese Market
The OS Group has been promoting the strengthening of its foundations of growth by leveling its business performance. In our manufacturing outsourcing business, we are working to reduce the impact of production fluctuation by dispatching workers under long-term dispatch contracts for the manufacturing processes that were carried out by fixed-term direct employees. The development of dispatched employee management system "Cloud Staffing Management (CSM)," which aims to improve productivity through DX of dispatch management works, is showing signs of a full-scale expansion. Although the earthquake and the semiconductor shortage temporarily impacted the auto industry's production activities, automobile demand has not declined, and the impact on the OS Group's business is expected to be limited throughout the 1H.
In our administrative outsourcing business for technical intern trainees, our track record of proper administrative operations receives strong recognition from clients, and the number of workers under the management as of the end of June 2021 remained at a prominent position in the Japanese market with 21,607 employees, even in the face of COVID-19 pandemic difficulties. The core Group company in the administrative outsourcing business has joined Japan Platform for Migrant Workers towards Responsible and Inclusive Society, "JP MIRAI," promoted by JICA, and is actively promoting a sustainable supply chain in Japan through international collaboration.
For our engineering outsourcing business, the scope of "Dispatch 2.0," a business model that integrates human resources and technology to realize more efficient and labor-saving operations, is steadily expanding. While continuing the industry-leading recruiting, we have accelerated the training scheme utilizing KEN School, the OS Group's training institution, where inexperienced workers are trained in various industrial fields from IT and construction to pharmaceuticals as well as mechanical design and then assigned as engineers. As a result, we have achieved steady growth in the number of engineers while holding down the rise in recruitment cost per person and expanded earnings. In addition, the number of new graduates recruited has grown to the scale of competing for the top position in the domestic market, and approximately 3,000 new graduates joined our Group on a consolidated basis in April 2021.
Furthermore, business fields that are less susceptible to economic fluctuations are expanding steadily, and in particular, in the U.S. military facilities business, renovation and maintenance operations of buildings and facilities grew steadily, not significantly affected by the COVID-19 pandemic.
■ OS Group Initiatives in Overseas Markets
In overseas markets, in addition to the expanding public works outsourcing business, such as government-related businesses that are less susceptible to economic fluctuations, we are developing technology-related fields that can be handled remotely and promoting a scheme to mobilize human resources from countries with human resources surpluses to countries with tight labor markets on a global scale. In addition, businesses for central and local governments, such as contributing to digital government functions, have driven growth by quickly establishing a system for remote work, and the e-commerce distribution business that supports lifelines has also further developed.
The CPL Group, which joined the OS Group in January 2021, is the largest HR business company in Ireland that provides dispatching, recruiting and placing and managed services of specialized human resources to a wide range of industries, and has performed steadily even during strict reimposed lockdown orders. Moreover, the financial results of the OTTO Group in the Netherlands has greatly exceeded the plan, and we believe that this will contribute to improving corporate value over the medium- to long-term.
■ Initiatives to Realize Sustainable Growth
A scheme that puts a burden on somewhere related to the business model may temporarily perform, but such a business will never last for a long time. The OS Group emphasizes the sustainability of its growth. As a sustainability policy for SDGs management, the OS Group is committed to corporate activities that will create job opportunities and education opportunities for many people around the world, through which we will seek to tackle society's challenges, develop our business, and contribute to the benefit of our stakeholders in a sustainable manner. We have positioned 2021 as the first year of our management based on SDGs, announced The OUTSOURCING Group SDGs Declaration in February, and established the Sustainability Committee in March. In addition, in April 2021, we became a signatory to United Nations Global Compact (UNGC) and joined Global Compact Network Japan, supporting adherence to the Ten Principles in 4 areas of UNGC "Human Rights, Labour, Environment, and Anti-Corruption." Going forward, we will continue to pursue a system in which our business activities are widely returned to society.
■ To Our Shareholders and Investors
As a result of the above initiatives, the consolidated revenue for the 1H was ¥264.7 billion (+53.3% YoY), and operating profit was ¥12 billion (+268.6% YoY).
We will continue to make every effort to improve corporate value and realize sustainable growth in order to become a company trusted by our shareholders and all other stakeholders.
We would greatly appreciate our shareholders and investors for the continued support of the ever-evolving OS Group.