Greeting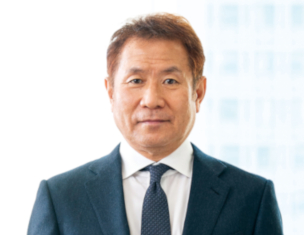 To Our stockholders and Investors Message from the CEO
Haruhiko Doi
Chairman and CEO
OUTSOURCING Inc.
Allow me first to extend my heartfelt gratitude to our shareholders and investors for your continued support and understanding.
Let me now turn to a discussion on the operating environment of the OUTSOURCING Group and our current efforts.
■ Looking Back on FY12/20
The unprecedented crisis from the global spread of COVID-19 had a huge impact on corporate activities such as the declaration of a state of emergency in Japan, lockdowns in countries overseas, and significant production cuts mainly in the transportation equipment sector due to disruption in the supply chain. In the wake of these conditions, the Company announced sharp downward revisions to the initial full-year financial forecasts for FY12/20 disclosed on February 14, 2020 guiding for a revenue of \420 billion and operating profit of \21 billion (from the Medium-Term Management Plan "VISION 2024"), revising down full-year forecasts along with 1Q results announced on May 14, 2020 to a revenue of \365 billion and operating profit of \10 billion.
Compared to this revised forecast, actual results for FY12/20 came in at a revenue of \366.7 billion (+1.5% YoY) and operating profit of \14.3 billion (-6.5% YoY), with both revenue and profits going above the revised forecasts.
During FY12/20, especially during the 1H, there was significant negative impact from the pandemic, but I believe the reason we were able to deliver a solid result in actual profits despite the impact was our ability to respond to changes with a sense of urgency, and unwavering entrepreneurial corporate culture.
Taking the major changes in the environment under the pandemic as a business opportunity, for example, Group companies in Japan and overseas rapidly promoted conversion to remote work, leading to improvement in the efficiency of in-house operations from the 2H, and changing the way of interacting and working with clients, allowing us to secure new contracts and to maintain existing contracts by being able to make successful new proposals. In addition, many Group companies were able to swiftly capture new market and client demands arising from dealing with the pandemic, successfully developing new business areas and new clients.
As a result of these aggressive efforts, business performance returned to YoY growth in both revenue and profits from 2H FY12/20, renewing record levels for the 2H. At the same time, initial full-year financial forecasts for FY12/20 guiding for a revenue of \420 billion and operating profit of \21 billion disclosed at the same time in February 2020 as the new Medium-Term Management Plan "VISION 2024," unfortunately, could not be achieved. However, from FY12/21 onward, business performance will recover to the trend spelled out in the MTP, and it is expected to achieve total quantitative financial targets as cumulative financial results.
■ About Initiatives with a View Toward Post-Pandemic
Triggered by the pandemic, various changes in society are accelerating. The majority of these changes are from the perspective that they will not return to conditions prior to the pandemic, and in response, it will likely be necessary to construct new business models with a view toward post-pandemic, and to promote client proposals based on these.
What I am most concerned about and believe that change is essential is the Japanese dispatching scheme, which has remained unchanged since the 1960s. With the evolution of IT technology, many new solutions through digitalization have been created, and while the environment is accelerating response to reduce the workload by human hands, the basic scheme of dispatching has not changed for decades. Since this scheme is essentially analog-dependent, it is not possible to target improving operations efficiency for clients, and because the scheme is inefficient, it leads to chaotic price discounting, putting a strain on workers.
By leveraging IT and AI relative to this outdated scheme, it is possible to place the right people in the right positions according to the skills and abilities of workers, and through the Company's mechanism for improving and/or changing skills, we plan to continue improving working conditions and raising the rate of deployments and retention rates.
This series of initiatives will also make the OUTSOURCING Group's management philosophy of "eliminating inequalities in working conditions and creating truly motivating workplaces" a reality through our business activities. Furthermore, by incorporating opportunities from natural attrition in the industry, we will accelerate making more positive changes, contributing to building a healthier industry, and we will thoroughly promote these initiatives during FY12/21.
■ Our Initiatives for Employment of Foreign Workers
As the pandemic continues to inflict damage, we extend our sincere prayers for everyone's health and safety. We are also deeply disappointed that a cut in the annual dividend could not be avoided due to the impact of the pandemic.
We have positioned 2021 as the first year of our management based on SDGs. Through our business strategies and policies, we plan to thoroughly promote widespread adoption of a culture of working to solve social issues in all Group companies in Japan and overseas. Furthermore, through business activities based on ESG/SDGs management policies, in addition to returning to the performance trends in the MTP, new initiatives for changes in society and industry will lead to the creation of business opportunities and further enhancing shareholder value. We would greatly appreciate our shareholders and investors for the continued support of the OS Group.